1538 Acre Farm Monroe CO AR
Contact Agent:
Bill Gates 901-488-0368
Location:
4 miles South of Brinkley on MoPac Road and 2 miles East of HWY 49 on Swoops Lane. 75 miles to Memphis TN, 75 miles to Little Rock AR, 50 miles to Helena AR
Acreage:
ACREAGE: 1538 acres Total, by tax rolls
1406 acres FSA cultivated
132 acres, woods, reservoir, roads and the old Big Piney Creek bed.
CROP BASES: wheat = 80 acres @ 51 bu. LG Rice = 588.92 acres @ 6488#
Soybeans = 535.81 acres @ 36 bu. Med G Rice = 117.95 acres @6784
Corn = 35.5 acres @ 131 bu. Milo= 57.49 acres @ 103 Bu
Features:
Farm has a long history of excellent duck hunting from pits and tree lines in flooded fields and from wading sloughs and green timber holes. The farm is located in an intense waterfowl flyway, with major influence from the Cache River and White River NWR's to the West and Big Creek and L'Anguille River to the East. Thousands of acres of neighboring farms are flooded up for ducks after harvest because of this flyway location.
The farm lays in a manner that will allow cost efficient land forming, with levees and water control structures for better crop production and duck hunting. Some of this dirt work can be done with cost assistance from the government. The results would allow for major income increases in farm and duck hunting rent. The annual farm rent for 2019 is $168,000.00 and is due for renewal and increase for 2020. The annual duck hunting lease is $25,000.00 for 3 years paid September 1.Grain bins rent for $6,000.00
Purchase Price:
Price Reduced: $7,536,200.00 ($4,900.00 per acre)
Shown by appointment
William Gates
901-488-0368
Improvements:
11 irrigation wells and 4 relift pumps, serving extensive underground piping. Relifts pump from a large reservoir charged by Big Piney Creek and tail water.
4- 10,000 bu. grain bins with stirralls and heaters.
metal building duck camp lodge with 5 bedrooms, 2 baths and furnishings.
9- steel duck pits, 4- duck blinds & numerous water control structures for duck water
Property Description:
Flat farm land , 90% irrigated and predominately made up of Foley-Calhoun and Lafe-Bonn fine silty mixed soil types, capable of high yields in rice, corn,
soybeans and milo, when irrigated. Rice is the predominant crop planted. Approx.100 acres of timber can be harvested and is presently used for deer and duck hunting.
1538 Acre Farm Monroe CO AR – Location Map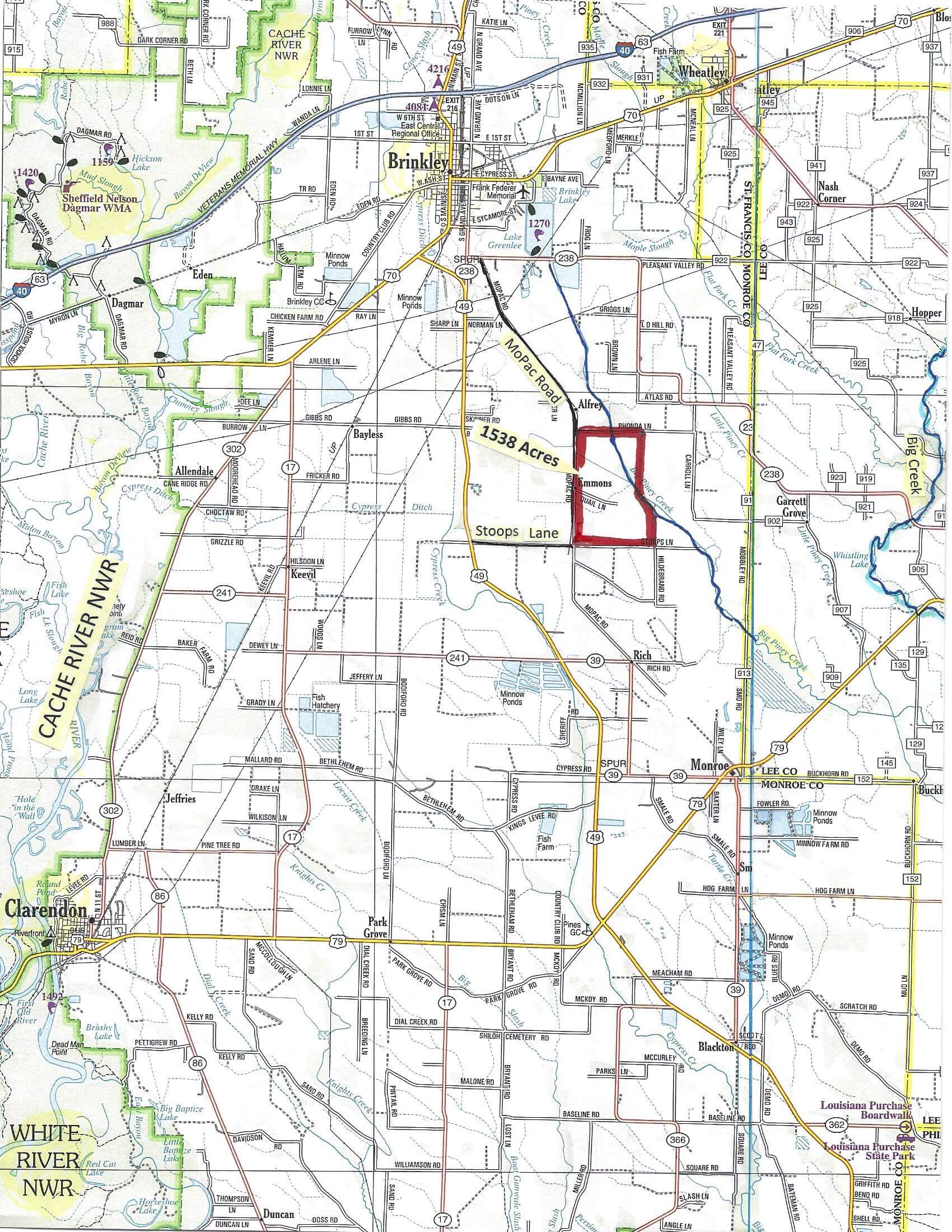 1538 Acre Farm Monroe CO AR – Aerial Photo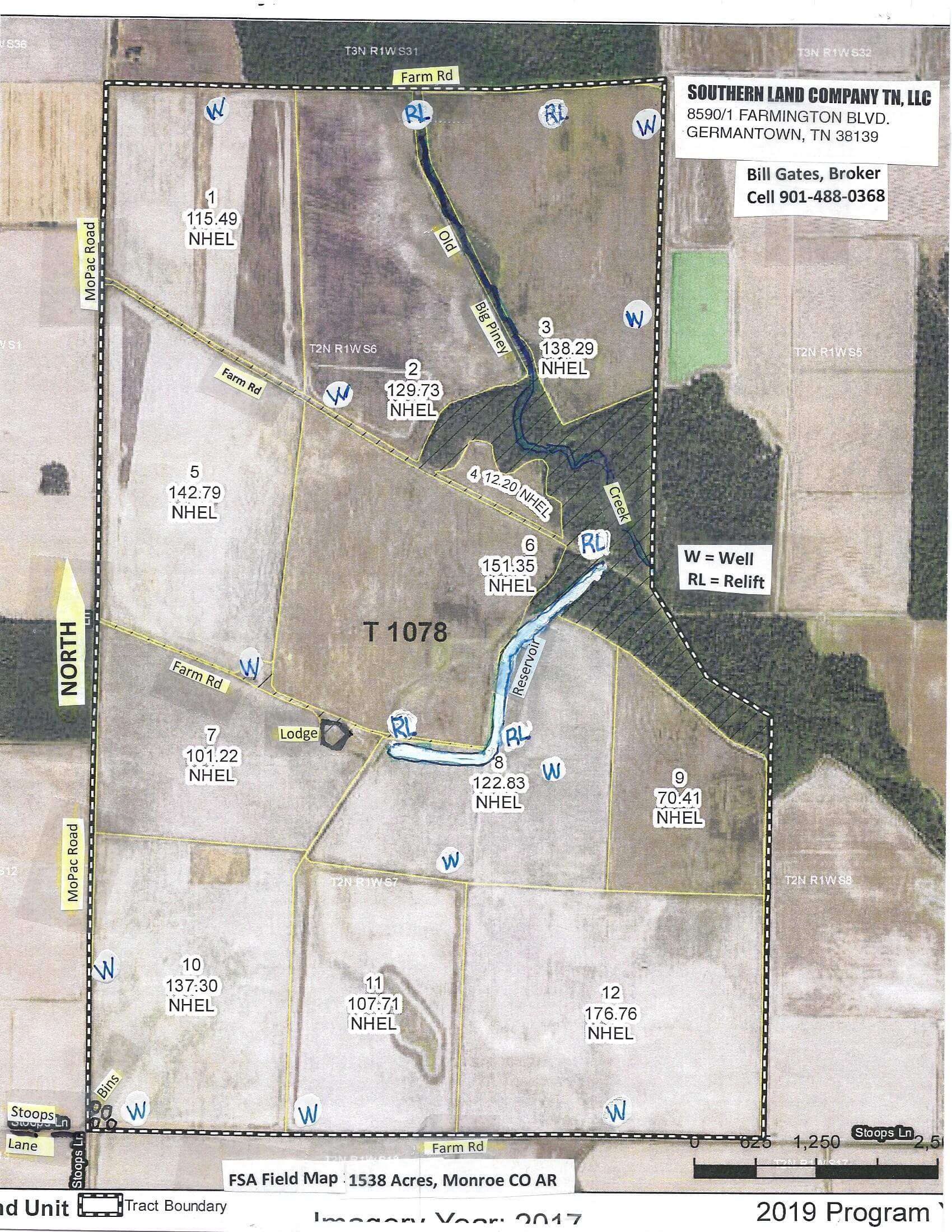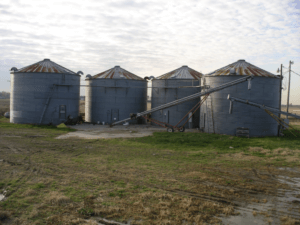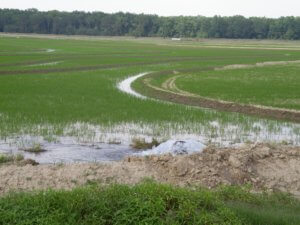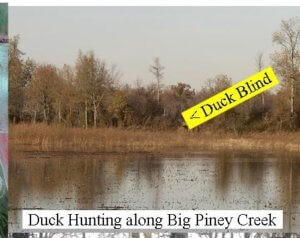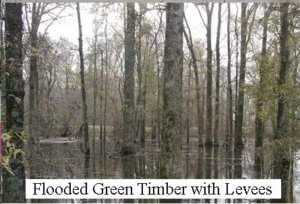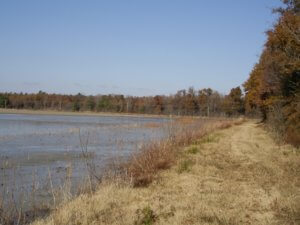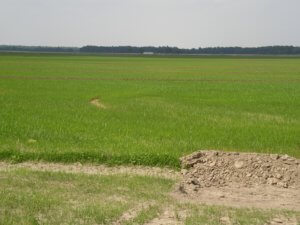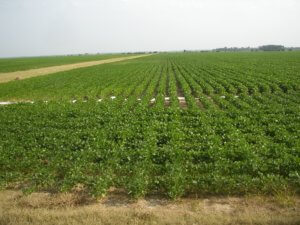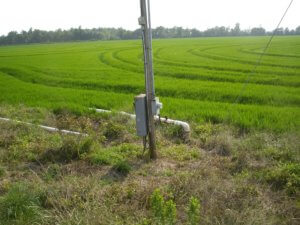 Photos: