2147 +/- Acres Cattle Ranch -Chickasaw County, Mississippi
Chickasaw
Contact Agent:
Bill Gates, Principal Broker 901-488-0368; Co-operating Broker: David Genho 407-952-9487
Location:
On Highway 32 West and on Old Highway 45 Alt South at Okolona city limits.
Just 22 miles South of Tupelo, & 29 miles North of West Point, Mississippi.
Acreage:
2147 +/- Acres Total, in developed pastures, fenced and cross-fenced, & 33 cooling ponds.
142.78 +/- Acres, in CRP "Quail Habitat" along ditch banks, receiving $14,990.00 annual income through 2031.
Features:
This ranch is located in the heart of Mississippi cattle country, with gently rolling pasture land on the edge of the rich Black Prairie farm land that runs through Alabama and Mississippi. The pastures are highly maintained and capable of one cow/calf unit per two acres or 2+ stockers per acre. The property is offered for sale as 2,147 acres, but divisions will be consideed using a county gravel road dividing the property into 1,222 acres and 1,035 acres.
Inspections are by appointment only. We can tour the property on the ground by ATV or auto. Tupelo Reginal Airport is 20 miles away with daily flights to Nashville, TN for nationwide routing. Tupelo is a major city in North Mississippi and is well known for strong agricultural and industrial bases, along with highly acclaimed hospital and school systems. Mississippi Stte University in Starkville and Mississippi University for Women in Columbus are about 50 miles from the ranch and offer diverse educational opportunities. In other words, "Its a good place to live".
This ranch is ideal for consideration as an expansion purchase or as an acquisition with a 1031 exchange from the sale of other real estate. If this matches up with your interests, plese give me a call to discuss more details., or pass it on to others.
Purchase Price:
$5,650,000.00                         or                  $2,632.00 per acre   
Improvements:
3 Bedroom Brick Owner's Home
2 Bedroom Frame House & Barn with concrete floor
3 Metal Barns, Shop, & several working pens.
Property Description:
Gently Rolling Highly developed Pasture Land  capable of supporting 1 cow/calf per 2 acres, or 2+ Stocker's or Steers per acre. The property has 33 Stock Cooling Ponds, Shade Trees, Working Pens… Shop, Barns, Fishing lake, & 2 Houses.
2147 +/- Acres Cattle Ranch -Chickasaw County, Mississippi – Location Map
Chickasaw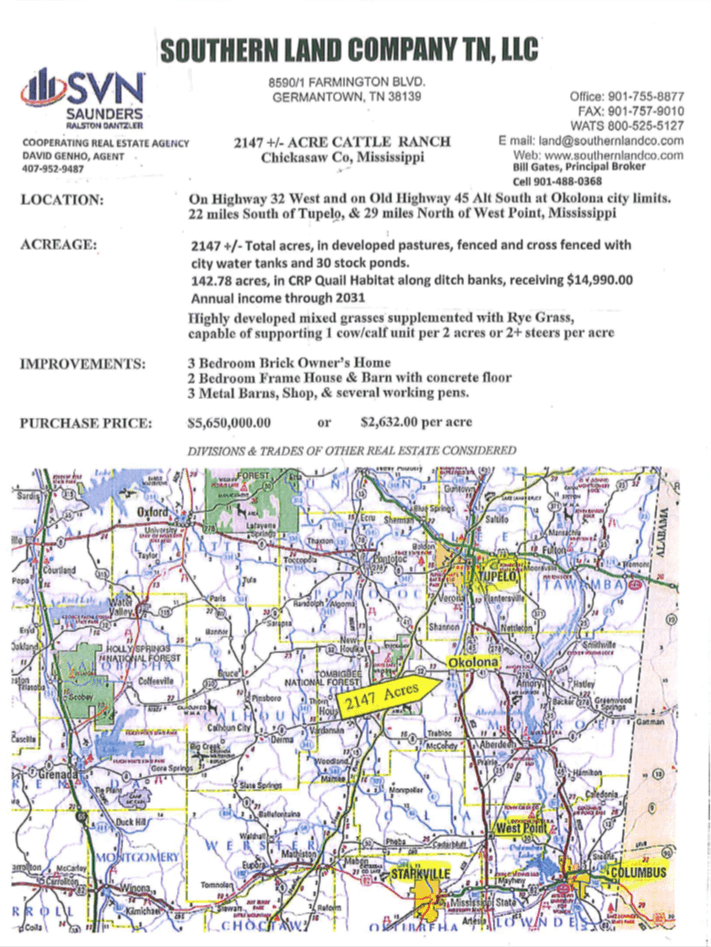 2147 +/- Acres Cattle Ranch -Chickasaw County, Mississippi – Aerial Photo
Chickasaw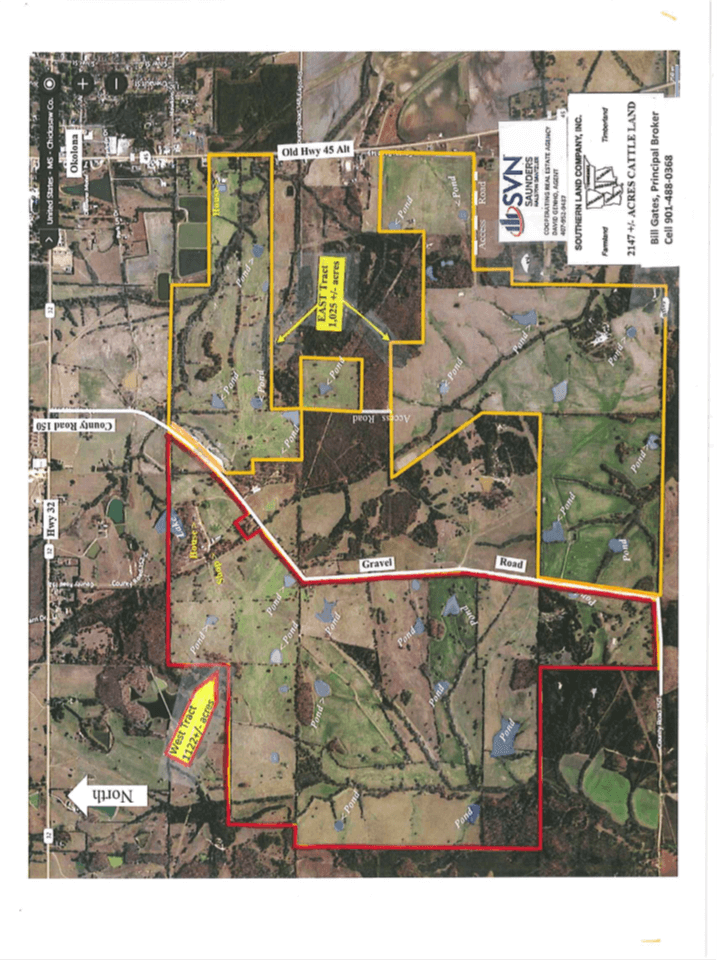 2147 +/- Acres Cattle Ranch -Chickasaw County, Mississippi – Ownership Photo
Chickasaw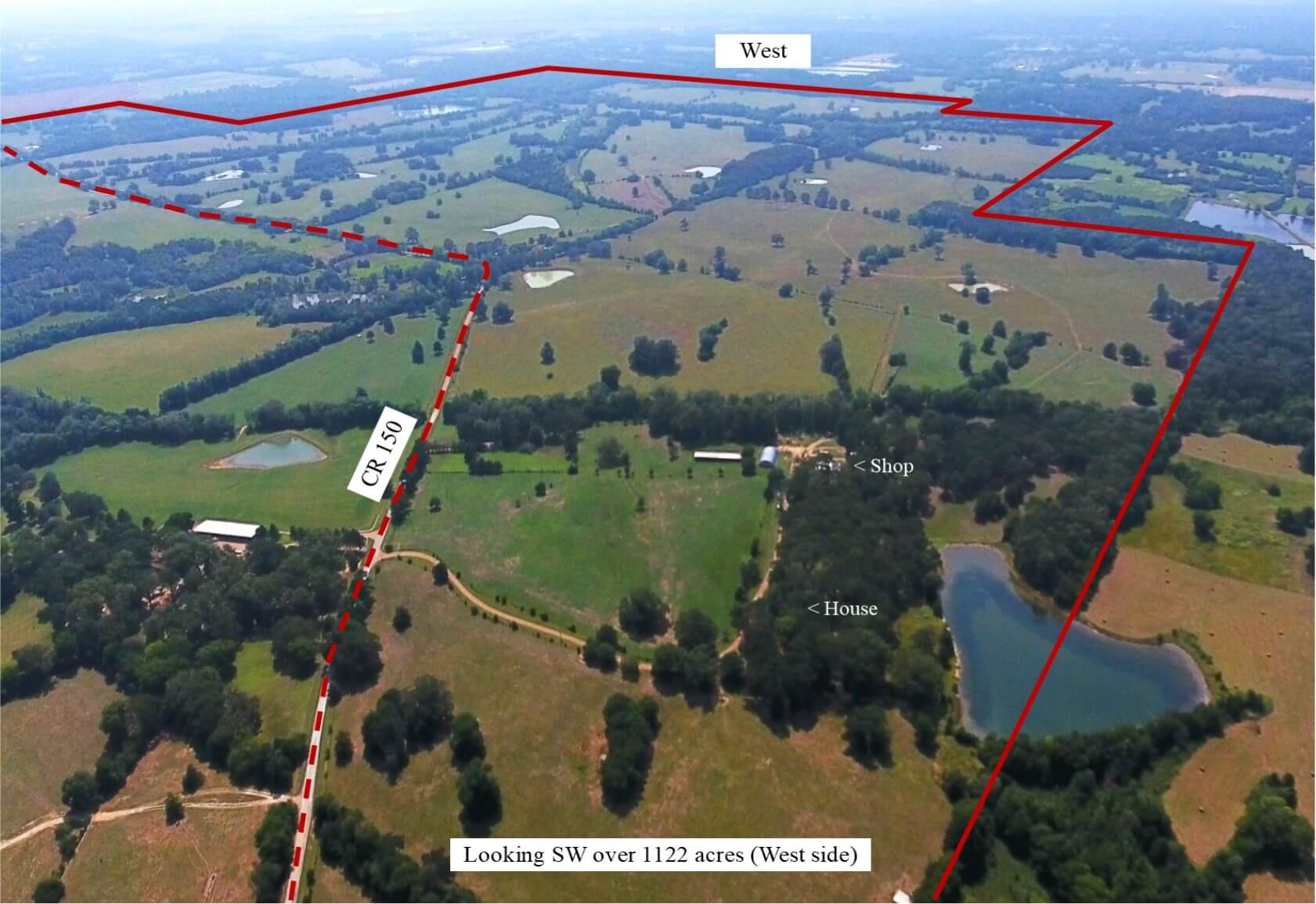 2147 +/- Acres Cattle Ranch -Chickasaw County, Mississippi – Highway Map
Chickasaw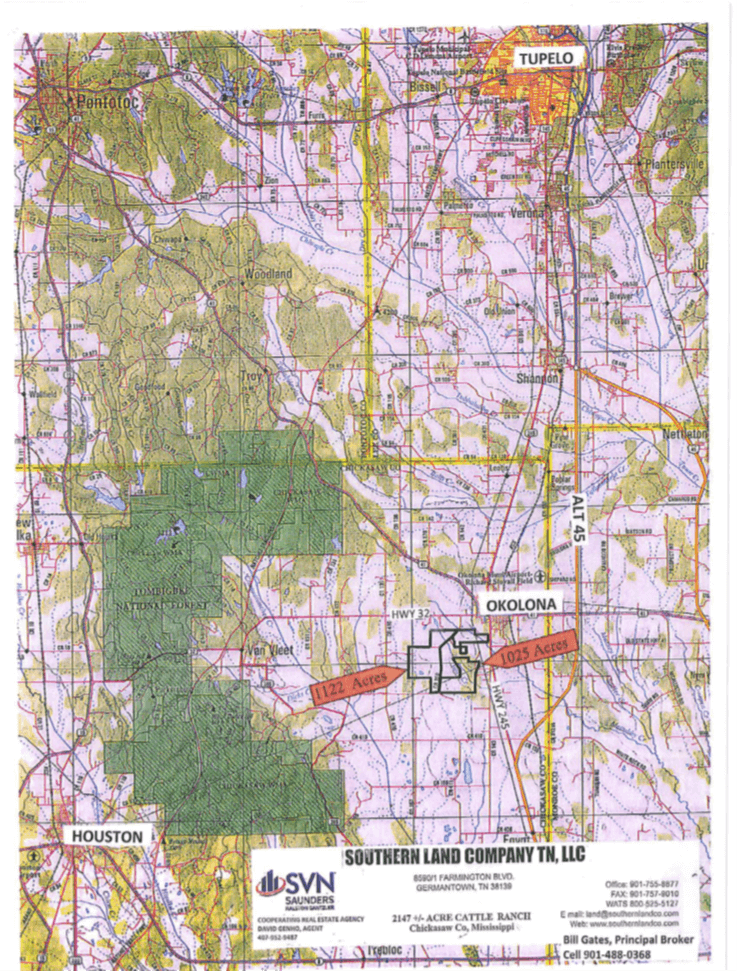 Photos: