265 +/- Acres Ranch, Equestrian, Timber, & Hunting Land -Henderson County, Tennessee
Contact Agent:
Bill Gates 901-488-0368
Location:
8 miles SW of Lexington on Mills Darden Rd, West of Chapel Hill.
Acreage:
265 acres by Survey with 100 +/- acres fenced Pasture in Fescue & Clover. 140 +/- acres heavy Hardwood Timber with value. 25 +/- acres marsh, ponds, & house site.
Features:
Equestrian, Ranching, Deer, Turkey, Duck, Small Game Hunting, & Fishing
Purchase Price:
$850,000.00    or    ($3201.55 per acre)
PRINT Brochure: 265 Henderson, TN Offering info
Improvements:
3168 sqft, 3bed, 3bath, rustic Cypress Siding House with a warm mix of Hardwood Interior paneling, Metal Roof, & attached 3 Horse Stable & Tack room. Energy Efficient with 6" insulated walls, Thermopane Glass, modern Gas & Electric Central HVAC, Stainless modern Kitchen, Gas Stove top, & Cozy wood burning stove. Large Hay Barn & Equipment Storage. 2 automatic Pasture Waterers.
265 +/- Acres Ranch, Equestrian, Timber, & Hunting Land -Henderson County, Tennessee – Location Map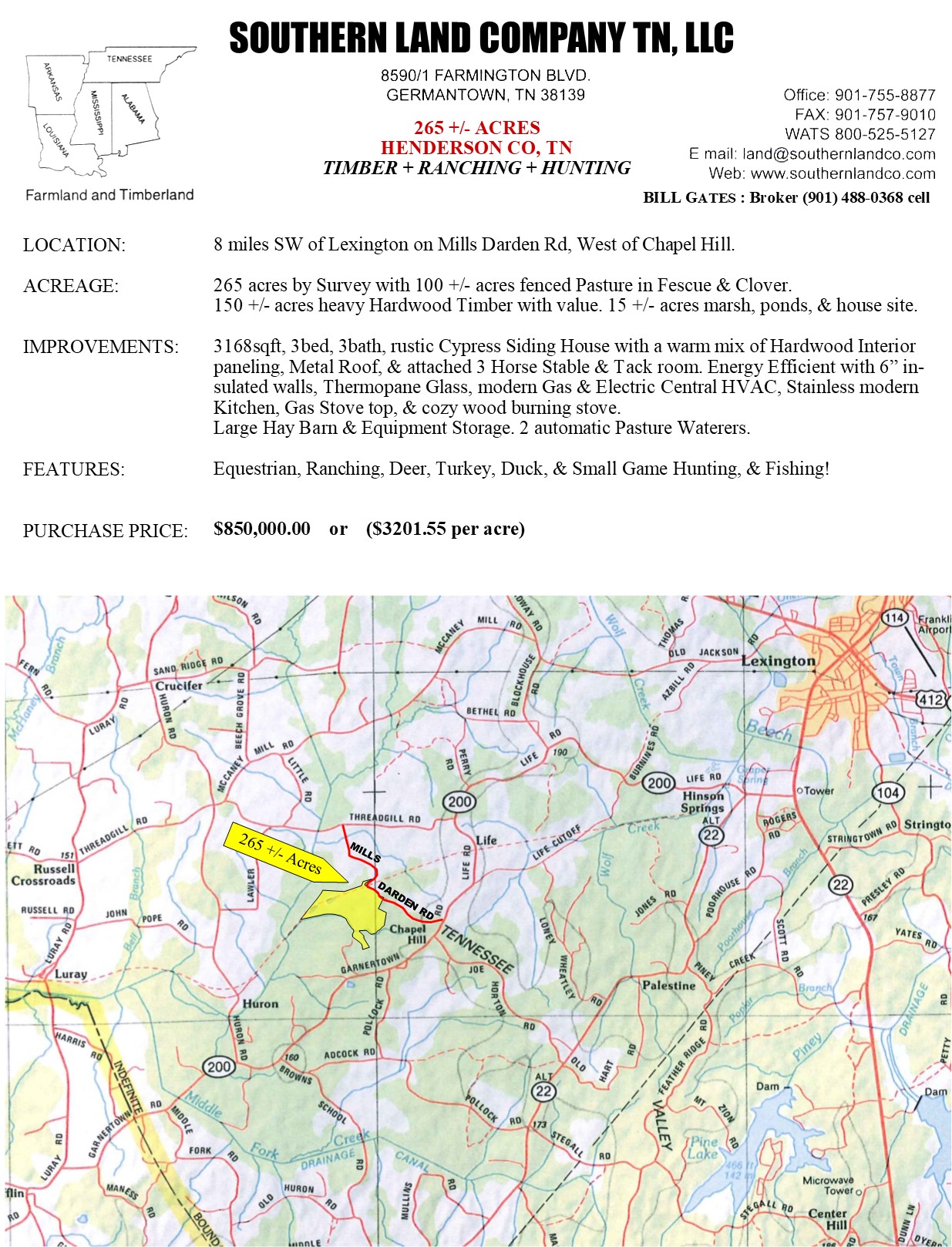 265 +/- Acres Ranch, Equestrian, Timber, & Hunting Land -Henderson County, Tennessee – Aerial Photo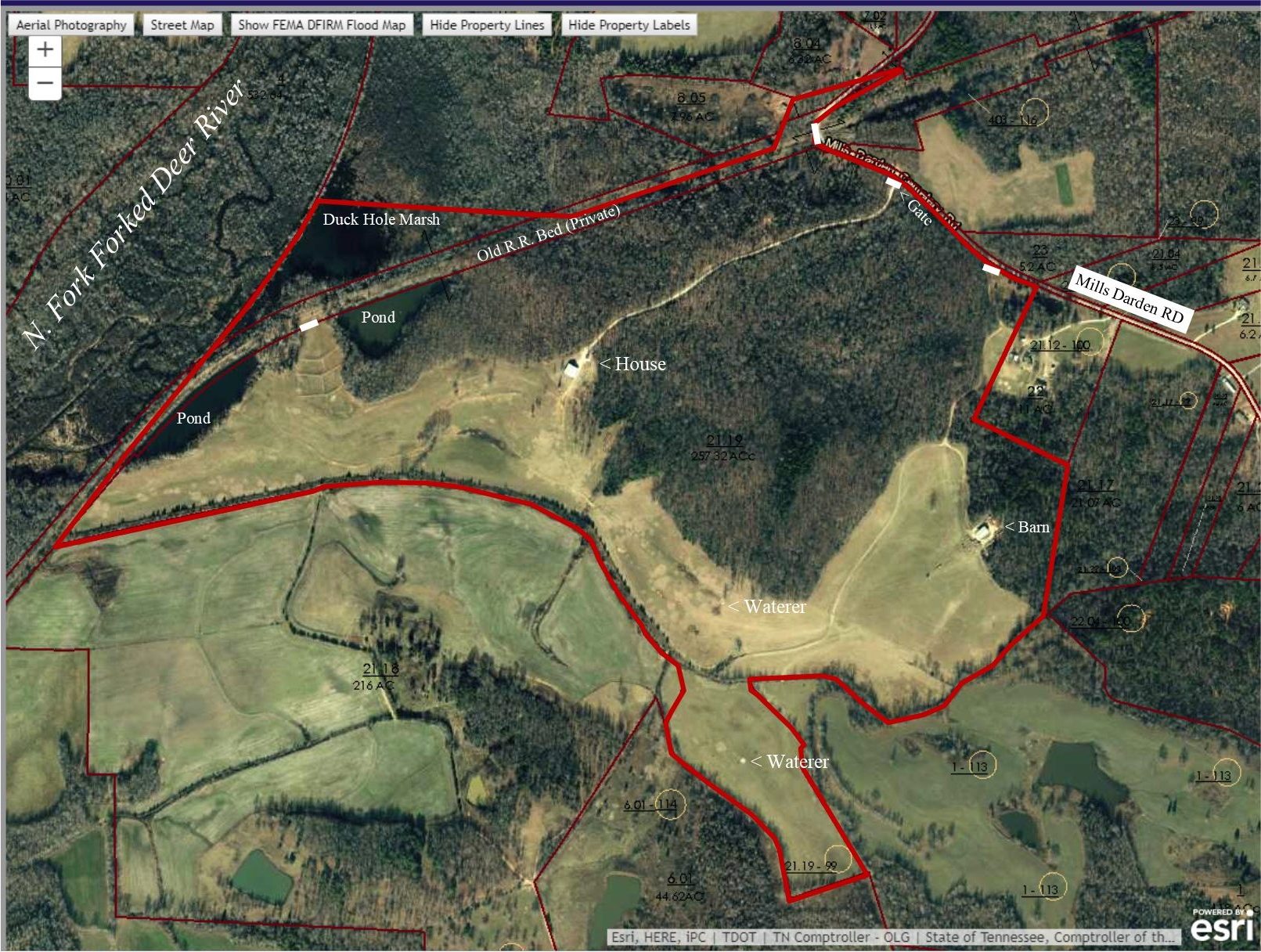 265 +/- Acres Ranch, Equestrian, Timber, & Hunting Land -Henderson County, Tennessee – Ownership Photo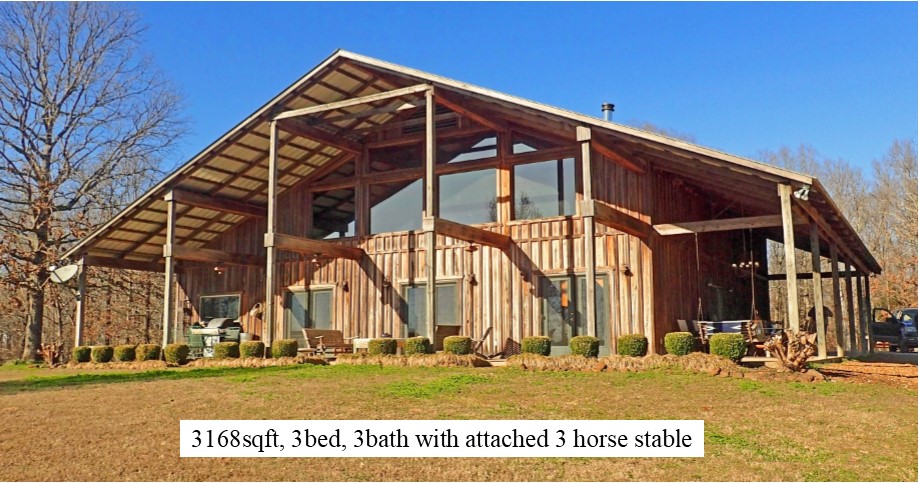 Photos: