BOBO BRAKE HUNTING CLUB MEMBERSHIP – 1531 ACRES – COAHOMA AND BOLIVER COUNTIES, MS
Contact Agent:
BILL GATES 901-488-0368
Location:

Approximately 5 miles southwest of Clarksdale and 1 mile northeast of Alligator, MS
Features: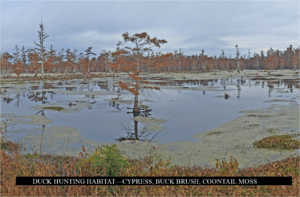 Purchase Price:
This membership is offered by a retiring member as follows:
PURCHASE PRICE: $495,000.00 CASH, plus assumption of a pro rata share of club debt with an approximate balance of $727,000.00, currently being paid in annual principal installments of $100,000.00 with the total principal and interest due in 2028. Operating expenses are assessed annually as they occur.
Property Description:
Bobo Brake Hunting Club is a a Mississippi limited liability company LLC consisting of 1,531 acres, made up of two tracts approximately 5 miles southwest of Clarksdale and 1 mile northeast of Alligator, Mississippi.  One tract consists of 500 +/- acres and is in Black Bayou and the other tract consisting of 1030 +/- acres is in Bobo and Annis Brake.  Both of these brakes are made up of miles of scattered cypress trees and buckbrush, with widespread natural stands of coon tail moss and duck potato.  Ducks Unlimited has described Bobo Brake Hunting Club as the ideal place for maintaining these natural duck foods and the primary reason the property consistently attracts waterfowl. Both of these cypress brakes are in high demand by duck hunters seeking prime duck hunting. A recent sale of adjoining duck hunting land went for $10,000.00 per acre and another for $5,000.00 per acre.  The duck hunting is constant throughout the season with consistent limits of mallards and gadwalls. There are a few designated sit -in blinds. All members have mud boats and motors, which gives them great flexibility to hunt the property effectively, depending on conditions. The most common hunting methods are from boat blinds or by standing under cypress trees. Members are allowed to have reasonable flexibility to seek and pursue ducks across the total property, without interfering with other members, by being aware of where other hunters might be, from the 6:00 pm notice system. Bobo Brake is well known as a duck hunting club, but the property also has some undeveloped deer hunting deer hunting, with major influence from thousands of acres of neighboring farmland and growing timber land in conservation programs. Each member is allowed one 8 point or better each year. Bobo Brake Hunting Club has been in existence for over 40 years and has 12 members with tightly held memberships and one club-owned membership that are rarely for sale. Third party sales are subject to approval of the membership.
INSPECTION:  The property is available for inspection by boat with notice to the Agent.
BOBO BRAKE HUNTING CLUB MEMBERSHIP – 1531 ACRES – COAHOMA AND BOLIVER COUNTIES, MS – Location Map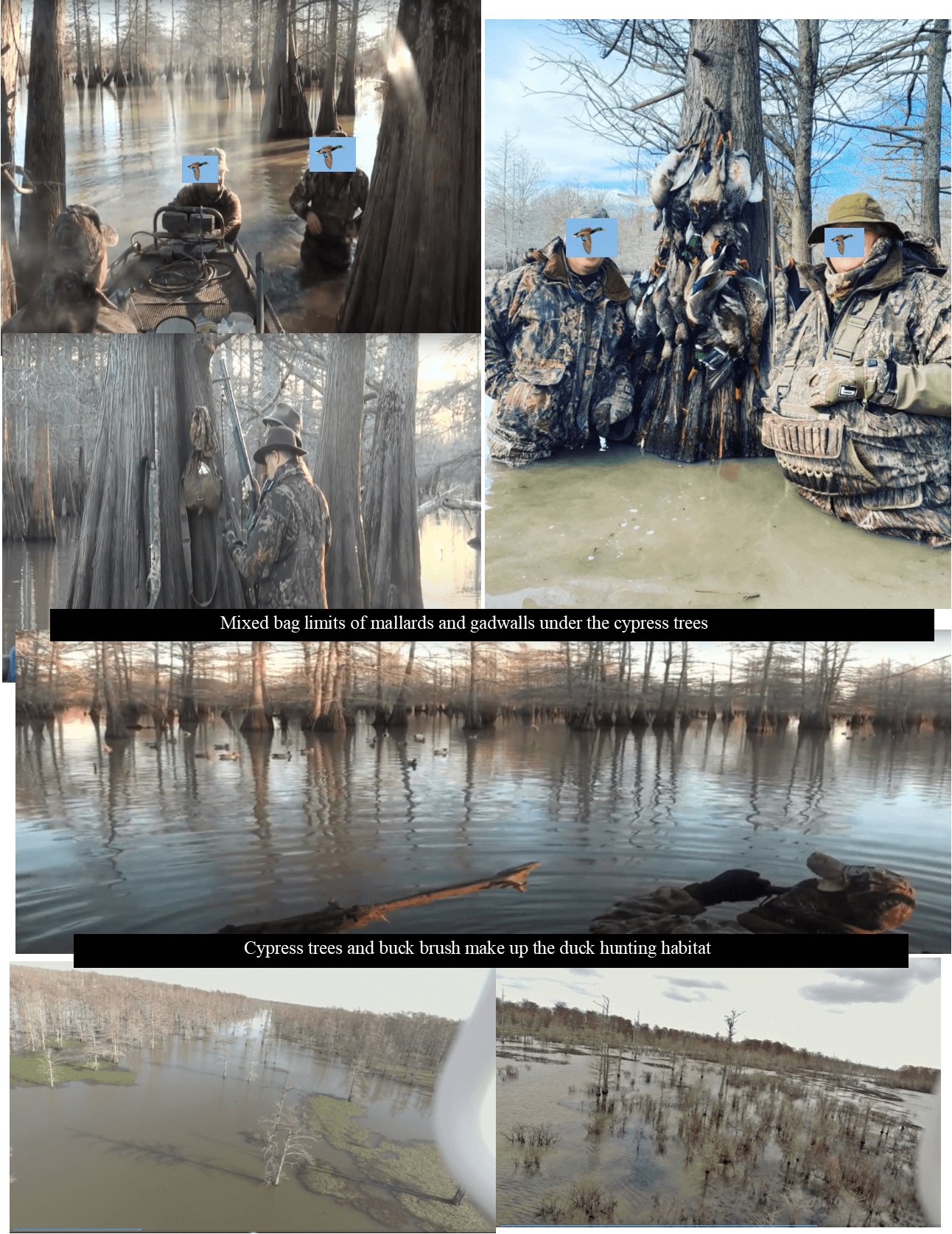 BOBO BRAKE HUNTING CLUB MEMBERSHIP – 1531 ACRES – COAHOMA AND BOLIVER COUNTIES, MS – Aerial Photo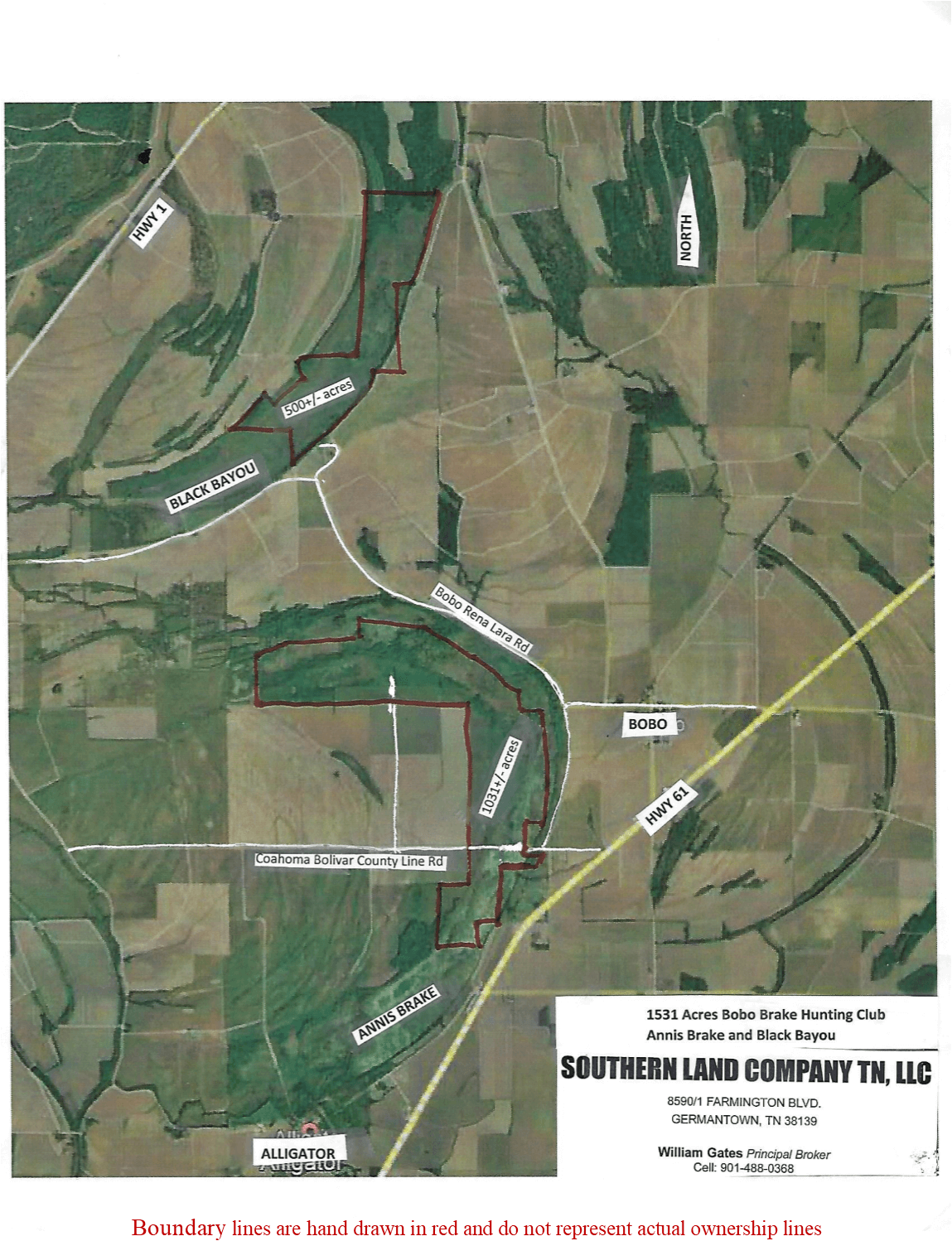 BOBO BRAKE HUNTING CLUB MEMBERSHIP – 1531 ACRES – COAHOMA AND BOLIVER COUNTIES, MS – Ownership Photo
BOBO BRAKE HUNTING CLUB MEMBERSHIP – 1531 ACRES – COAHOMA AND BOLIVER COUNTIES, MS – Highway Map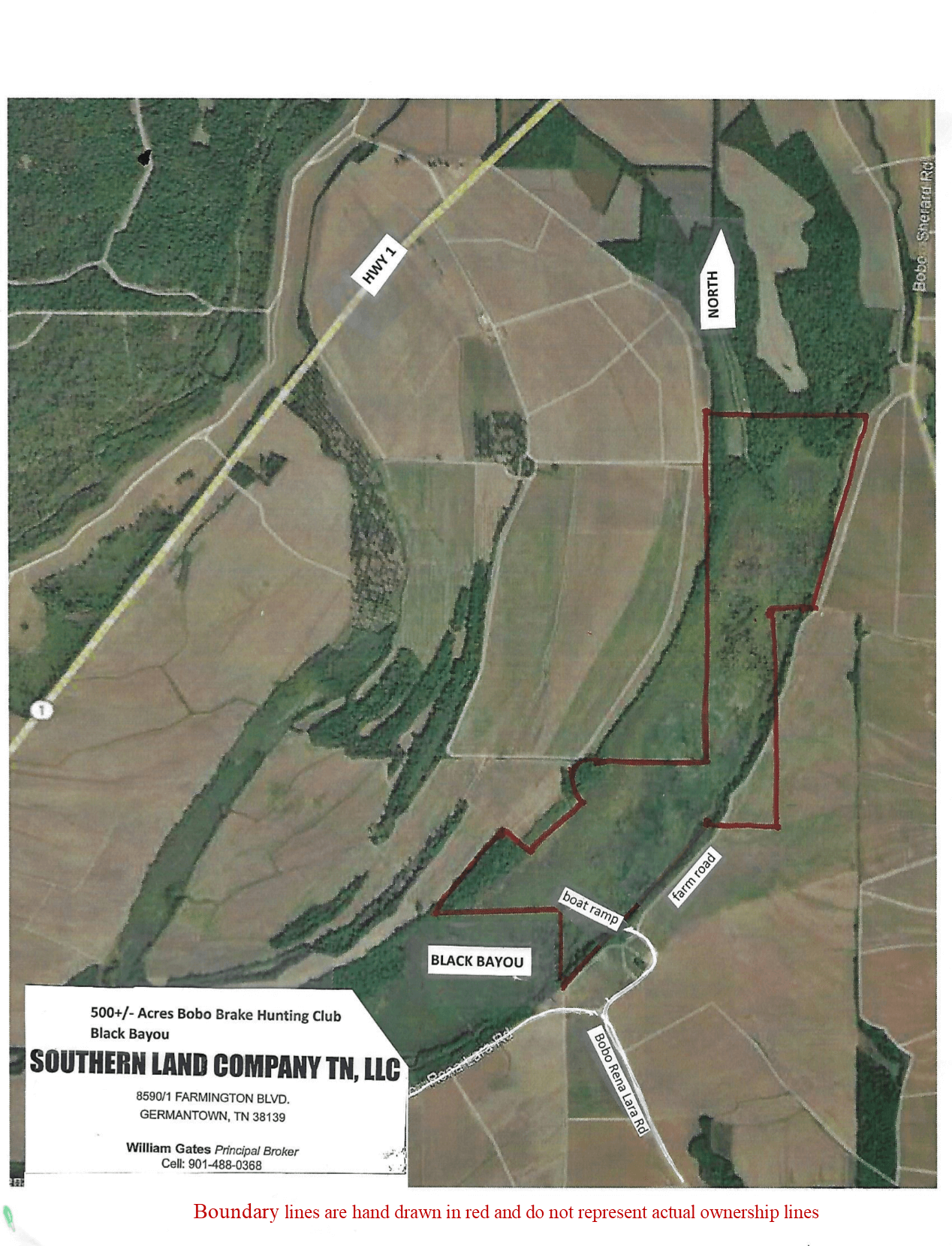 Photos: