Miller Point Hunting Club 7000 +/- acres -Coahoma County, Mississippi
Contact Agent:
Lake Gates 901-493-5925 cell
Location:
Miller Point is located 75 miles South of Memphis, 70 miles West of Oxford. 85 miles North of Greenville, 15 miles West of Clarksdale, and West of Stovall on the Mississippi River and Old River Lake.
Acreage:
7000 +/-
Features:
Club has year round usability. Deer, Duck, Turkey, Dove, Hog & Small Game Hunting with fishing on private Old River Lake.  Land & Food Plots are intensely managed with full time Caretaker.
Purchase Price:
$750,000.00    -for 1/32 Equity share & private Cabin.
Improvements:
3 bedroom 2 bath elevated private cabin with deck overlooking Old River Lake. Camp shares game cleaning station & walk in cooler, shooting range, & boat ramps.
Property Description:
Miller Point is made up of managed hardwoods, in various growth stages, intermingled with over 40 food plots in a variety of plantings for attracting wildlife. It has almost seven miles of Mississippi River frontage with river front wet land in willows and an old river bend lake bed. This diverse wildlife habitat makes Miller point a major holding property for deer, turkey, ducks, hogs, small game and an occasional black bear. This is further enhanced from thousands of acres of neighboring farm land planted in wheat, corn and soybeans, attracting wildlife. There are miles of private interior roads maintained for year round use and access to the entire property.
The property is managed by a full time caretaker with extensive experience in game management, game cleaning, forestry, crop production and dirt road maintenance.
The property has an extensive, trap, skeet, rifle and archery range along with a game cleaning area with ice machine and walk in cooler. There is a boat ramp into the Mississippi River and 40 club box stands available to all members.  Twenty two equity partners own Miller Point, with individual houses built on lake side lots with 99 year lease holds. These are served with electricity and water from a rural water system.
The hunting club operates under strict rules designed for intense game management along with maximum personal enjoyment from hunting. Of the total 7000 acres, approximately 1800 acres are in Phillips County Arkansas and 5200 acres in Coahoma County Mississippi. This allows club members to have full advantage of both state's hunting seasons. The "big Buck Program" has been in existence for years. The results are evident with continuing harvests from the herd in the 150 to 170 range, with several in the 190 range. About half of the members bow hunt only. Turkeys are abundant and are hunted with great success. Duck hunting is done in Old River Lake, in willow flats along the Mississippi River and in interior sloughs. Squirrels are plentiful in the thousands of acres of mast producing timber and hogs are shot for sport. Dove hunting in sunflowers planted in food plots is fantastic and unequaled in the area.  Old River Lake is owned in the entirety by Miller Point and has a long history of consistent bass, bream and crappie fishing, along with duck hunting. In other words this is a "Hunter's Paradise"
Miller Point Hunting Club 7000 +/- acres -Coahoma County, Mississippi – Location Map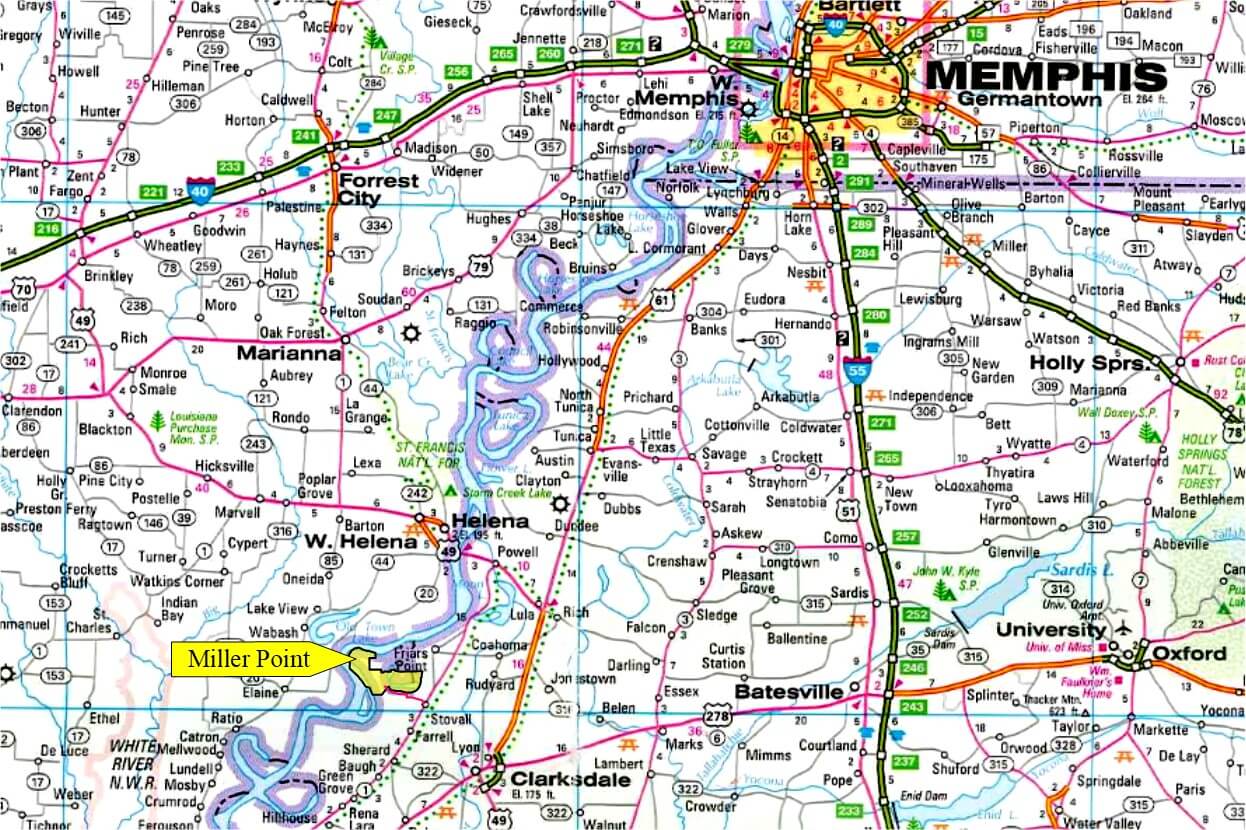 Miller Point Hunting Club 7000 +/- acres -Coahoma County, Mississippi – Aerial Photo
Photos: